First edition of the Maastricht University Challenge proves to be a great success
After an intense jury deliberation, ComfyHand, WoundAeroFiber, and Flui.Go Science were announced the Category winners of the Maastricht University Challenge 2021 on November 25th. They received the Ideation, Prototyping, and Start-up Award, respectively. The Localist stole the hearts of the viewers and won the Audience Award on November 25th.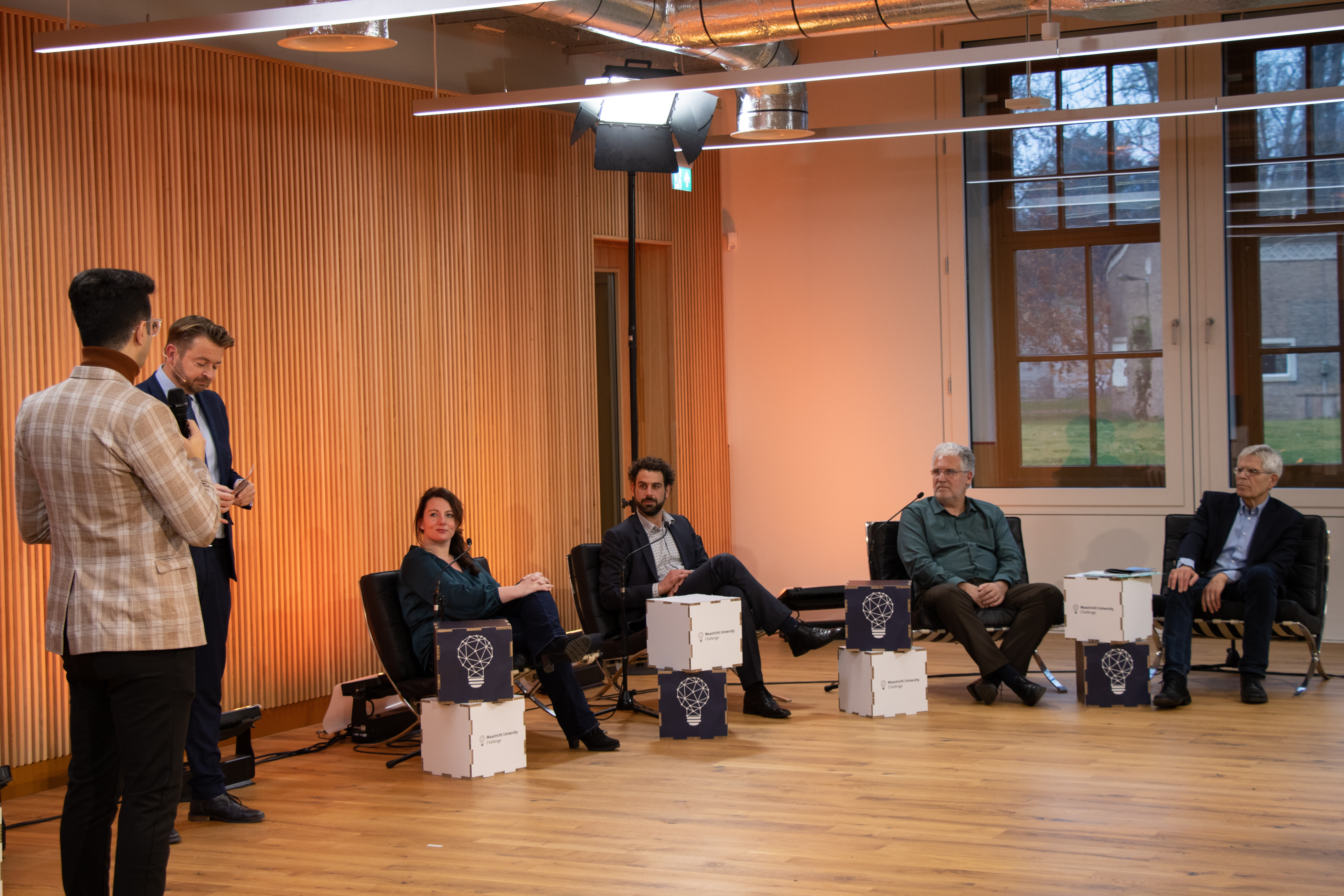 Over the past months, participants across more than 60 teams engaged in a journey to set up their own start-up. They followed workshops, coaching sessions, and took part in the Speed Date Event with entrepreneurs in the partner network to take their project to the next level. The 17 most promising teams were selected to present their project one more time in the Grand Finale. It was an afternoon full of unforgettable thrilling pitches, Q&A sessions with the Expert Jury, and an exciting Award Ceremony.
In each category, the top 2 teams were selected by the Expert Jury to take part in the final battle during the Q&A session. From innovative ideas and prototypes in the field of healthcare, to e-commerce and travel, finalists impressed both the panel of experts, host Sander Kleikers, as well as the online audience. The awards were presented by representative of Provincie Limburg Stephan Satijn, Chairman of the jury Wil Foppen (UM Centre for Entrepreneurship & Innovation), Roy Broersma (UM Centre for Entrepreneurship & Innovation), and project coordinator of the Maastricht University Challenge Elisa Kamps (Soapbox).

The Grand Finale was organised in a hybrid format with pre-recorded pitches and the audience fully online amongst others. Despite the current challenging circumstances, the Maastricht University Challenge was able to offer the next generation of innovators a stage, centralising promising impactful solutions.
Want to know more about the winners and finalists and rewatch the finale?
Visit our website: www.maastrichtuniversitychallenge.nl, or follow us on social media (@maastichtuniversitychallenge). The Maastricht University Challenge is initiated by Maastricht University, Zuyd University of Applied Sciences, and Provincie Limburg, and is organised in collaboration with Soapbox.
All covid measures were followed during this event.